By M. Britt Hayes
Welcome back to the corner.  Its been 2 weeks since our last visit, so waiting will be minimal. Let's get the overreactions under way.
COMEBACK KIDS
In case you haven't noticed, it seems that the NFL has gone complete Marty McFly on us and rewound the clock to 2012. A time when lightening wasn't hitting a clock tower, but was striking for a couple of top NFL players that have suddenly become relevant once again making an early case for the Comeback Player of the Year.
Chris Johnson-On pace for  1,200 yards rushing this season, CJ?K's numbers look like retro-stats.  The former unanimous #1 overall fantasy draft pick from 2010 was snatched up by the Cardinals as a last minute fill-in due to injuries. He has garnered plenty of snaps, thanks in part to David Johnson being his only competition, but mostly to head coach Bruce Arians' disdain for playing rookies. Its all about opportunity, and the presumed "washed up" former Titan is taking his to the cleaners.
Carson Palmer-2015 is looking like Carson's year. He has already reached the 1,000 yard mark for passing, and thrown for 10 TD's. Aaron Rodgers is the only QB with more at 11. Palmer is making a strong case for MVP early on this year.
James Jones-No injury replacement was speculated about more in preseason than that of Jordy Nelson's. If you guessed JJ would be the guy, than you win. Here's your giant fantasy trophy. Now go home. But what does James Jones do? He catches touch downs. Four of them to be exact. Jones has insured himself as Aaron Rodgers' discount double check-down guy in the redzone. Throw in his 317 yards and he's working on a year where he amasses 1,00o yards and 16 TD's.
Larry Fitzgerald-First and Second. These are Fitz's rankings in touch downs and receiving yards through the first 4 games of 2015. He has already surpassed his TD total from last season and has reeled in more than half of his total yards. If that's not impressive enough he also has the most catches of 20  yards or more with a whopping 10. That's 3 more than the next guy. Larry is back.
Verdict:  None of these guys get it. With the return of Andre Ellington looming, CJ?K should see a cut in snaps. Palmer has a history of being ouchy prone, and may not make the full season in uniform. Defenses will soon begin to recognize Jones as that gentleman that ARod likes to throw TD's too, and cover him. Fitz is having a grand ole season, but he's shown his age in the past and age doesn't go away.
My vote is going to Adrian Peterson. Guess who leads the lead in rushing yards. That's right AP. Guess who leads the league in runs of 20 or more yards. Yep, AP again. After missing an entire year he has again comeback only to prove that he is the best RB in the game. He is the lone bright spot on a dismal Vikings offense that received a lot offseason hype.
Writer's Note: Eric Berry will actually win the NFL award. I just don't see how a guy that had Hodgkins lymphoma and was undergoing chemotherapy about 9 months ago can't win comeback player of the year.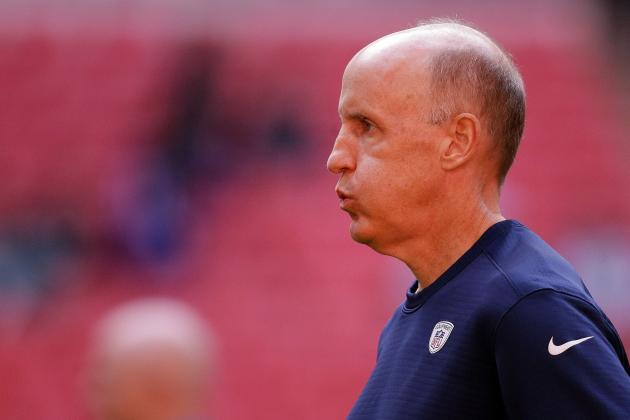 FIRING PHILBIN FIXES PHINS
It is happening! Thanks to all of your efforts in social media activism with the "Free Lamar" campaign. Dolphins' owner Stephen Ross has seen the light and lowered the boom on head coach Joe Philbin. He will be replaced by interim coach Dan Campbell.  Campbell is the complete opposite of Philbin, and should increase Lamar Miller's workload.  The heavy run game will open up the pass attack and voila, no more one dimensional passing game leaving Ryan Tannehill to do all of the work. Start your Dolphins with confidence going forward.
Verdict: Not exactly.  Offensive Coordinator Bill Lazor is still in Miami. He the guy making all of the 80/20, pass to run play calling. He stays, so does the offensive scheme. Miller may see an uptick in carries, but nothing major unless Lazor is relieved of his duties as play caller. Monitor your Dolphins for another week or two, and start with hesitation.
DEVONTA FREEMAN SOARS
Freeman has planted his flag in the starting RB job for Atlanta and claimed it as his very own like it was the moon and he was 'Muricah. The 2nd year runner has burst on the scene with 209 yards and 6 TD's in his first 2 starting appearances for the Falcons. With back to back performances of such profane proportions Tevin Coleman is a thing of the past and Freeman is the future of the ATL backfield.
Verdict: Most likely, but most certainly play whatever RB that Kyle Shanahan likes best. Shanahan is to offensive lines what King Leonidas was to those 300 Spartans. He has successfully turned what was a bad O-line a year ago into a good crew of blockers. He worked his magic in Houston, Washington and even kind of did it in Cleveland last year. Now he's doing if for the Falcons.
THE RUNDOWN
Let's talk about Todd Gurley.  We all saw the breakout game with 146 yards. He's a hot, hyped rookie who started off the season injured and missed the first few games, only to take over as the most talented player on their team upon entering the lineup. Sounds like Odell Beckham Jr. to me too.
Eddie Lacy is this year's top 5 bust. Time to sell. 33 and 23 are his total fantasy points through 4 games in 2013 and 2014 respectviely. He went own to finish both seasons as top 5 RB. He currently has 32 points.  Even his QB wants you guys to R-E-L-A-X.
Now that the Kansas City Chiefs are on the map in the land of wide receiver touch downs, Jeremy Maclin will return to form and be a top 10 WR. This is because he has 40 targets. Only 6 WR's have more. The payoff is in targets, you can't score without getting a shot at the ball.
Speaking of targets, Deandre Hopkins had 21 of them last week alone. Who else are they going to throw to in Houston? Hopkins may break a target record. He's on track for 244.
The Panthers are the best defense in fantasy football. Considering their play with Luke Kuechly out injured it sure seems that way, but keep in mind the ever important schedule. They have played 4 soft offenses in the form of a sophomore QB in Jasksonville,  an on again-off again backup QB in Houston, a career backup QB in New Orleans and a rookie QB in Tampa Bay. With the bye week approaching, now is the time to move on.
Carolina does however have the NFL's newest cocky shut down corner, Josh Norman. He plays as well as he taunts, and will continue to get thrown at because he's new and not yet respected. How did Sherman and Revis make a reputation to avoid them? They earned it in the same way. The takeaways and tackles should continue to mount up for at least one more season as he is tested.
Lesean McCoy doesn't have to play to get paid. Well Karlos Williams does and that's what he'll continue to do.  Averaging 5.4 yards per carry on 42 attempts is no fluke. Even when Shady decides he is healthy Williams could force a time share. Be sure he is in your line up until then.
With Michael Vick as the engineer, the Martavis Bryant hype train has come to a screetching halt. Nope, add a few coals to the fire and get that steam engine back up and running again. Vick can still throw the deep ball, and Bryant is a deep threat. And did anyone else see the chemistry these 2 had in preseason?
Carolina Panthers Fan

I play Dynasty Fantasy Football....a lot

This is fun.
Latest posts by M. Britt Hayes (see all)