by M. Britt Hayes
Its that time again. With another NFL week in the books, lets's take a minute to reflect on all that has come to pass and what it means for your fantasy teams. Overreaction starts now.
West Knile Virus
With exactly 9:33 left in the 3rd quarter , Chiefs RB Jamaal Charles went down with a non-contact knee injury against the Chicago Bears. In that moment the entire fantasy world became instantly infected with the West Knile virus. Symptoms may include but are not limited to waiver wire waffling, trivial trades and frantic flex fidgeting. Who is going to replace Charles?
For the last 2 seasons, Knile Davis has been the definitive hand cuff to JC. Every Charles owner's "break glass in case of emergency" player. Anytime Jamaal missed time he was a sufficient replacment and functioned just fine. Then comes 2015 and Charcandrick West, an undrafted free agent has stolen Davis' cuffing thunder.
Verdict-No one will replace Jamaal Charles' talent. His spot may be filled but his production is unequaled at 5.5 yards per carry for his career.
Davis may have seniority, but that means nothing in the NFL. He is fast, but he's rather dismal when it comes to breaking tackles. West has the lower body to run between the tackles, but its still uncertain whether or not he is of NFL caliber. After all, this is not Abilene Christian University, his former college. Though after receiving the bulk of the carries once Charles went down Sunday, it is apparent that West will get the first crack at the job.
Temper expectations. There's a hard cap on either runner's ceiling. Charles's talent may have inflated Kansas City's pass block rating and they don't exactly have the defense to grind the run game.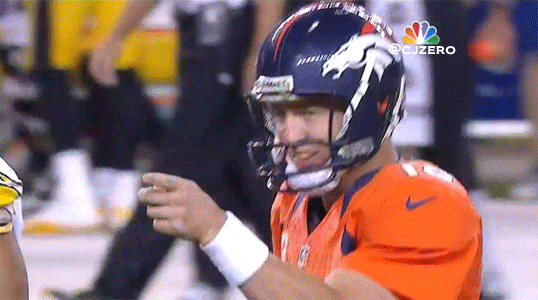 Manning Up
Its been a fantastic journey and one every fantasy owner should be proud to have witnessed, but Peyton Manning's fantasy relevance has finally come to an end. The Broncos QB just posted his second consecutive single-digit game. He has also thrown an interception in every outing thus far. This season seems to be a continuation of the end of last year's debacle for Papa John's main man. Its time to put this stud out to pasture.
Verdict-Not so fast. He's still Peyton F'n Manning. The O-line has been terrible, and Manning isn't used to that kind of abuse in the backfield. After 5 weeks of horrendous offense, its obvious that coach Kubiak's "ride the running back" project has failed and he realizes it. If Kubiak decides to hand the reins over to PFM, than along with Emmanuel Sanders and Demaryius Thomas they will again light it up like the 4th of July and kaboom, he's a QB1 again. Denver has a rather favorable up coming schedule so now is the time to buy the elder Manning brother. He may not be a colt anymore but there's still a little buck left in the ole bronco.
Big Johnson
Just when you thought it was safe to give up on Andre Johnson, he goes all Jason Voorhees on us and comes back from the dead. Revenge game or not, he grabbed 6 catches for 77 yards and 2 TD's. Translate that to fantasy points and you've got 19(STD) and 25(PPR). So  like the hokey pokey you put him back in.
Verdict-Wrong. The Colts gave us a Matt Hasslebeck led offense. One with 2 WR sets that saw both Coby Fleener and Dwayne Allen working as pass blockers and lots of Frank Gore running. When Andrew Luck returns it will get back to 3 WR sets using Donte Moncrief, T.Y. Hilton, and Phillip Dorsett. With Moncrief and Hilton continuing to get most of the targets.
AJ's game was simply a product of having more looks because there were less WR options on the field.
The Rundown
Eddie Lacy still has not produced. Its been 5 weeks and his stat line is as quiet as a Marshawn Lynch press conference. Again he's a late starter look at the last 2 seasons. He's more of a "hold him til you see the whites of their eyes" type of player.
Can Gary Barnidge have a breakout year at 30 years old? He can and he is. With 26 targets in his last three games and 75 yards and 1 touch down in each of them, old man Barnidge has earned his right to be owned and started.
David Johnson has 6 touch downs.  Only 1 player(Devanta Freeman) currently has more through this year's 5 games. He has run the ball 18 time and caught 9 passes. That's a total of 27 touches, meaning he scores every 5th time he touches the ball. There's an elephant in Arizona's room and he's a playmaker. Bruce Arians can no longer ignore the real Cardinals RB1.
The NFL MVP is Andy Dalton. The red rifle is off to a sizzling start with 11 TD's and 1,518 yards. I'm not sure if I'd call him the MVP but I'd start him in a lineup until he shows signs of cooling off.
The Jacksonville Jaguars offense is an art of performance. When it comes to fantasy points Blake Bortles is 8th among QB's. His WR's Allen Robinson and Allen Hurns rank 11th and 12th respectively among fantasy points. Hurns currently has more receiving yards than any 2nd year WR from the 2014 draft class.  Let that process for a moment. Running back T.J. Yeldon now has 2 straight games with double digit points. Suddenly the Jags are beginning to resemble what the Miami Dolphins offense was hyped to be in the preseason. The Jags young new offense is currently marking its territory all over the NFL.
Carolina Panthers Fan

I play Dynasty Fantasy Football....a lot

This is fun.
Latest posts by M. Britt Hayes (see all)